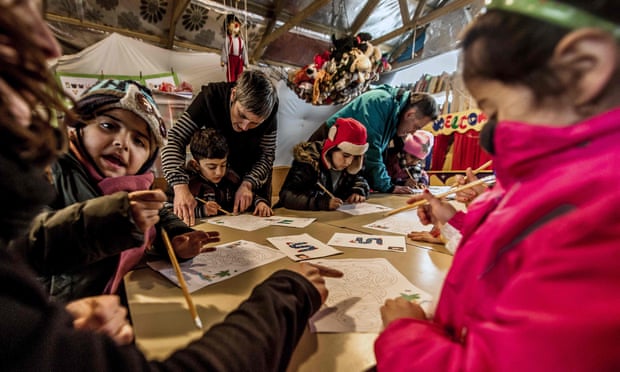 A makeshift school in the Calais camp during February. Photograph: Philippe Huguen/AFP/Getty Images
I was emailed by 38 degrees today, being asked to add my name to this open letter:
Dear David Cameron,
The recent announcement by the Calais prefecture to raze the Southern part of the "Jungle" refugee camp in Calais is an act that if allowed to happen, will destroy the temporary homes of over a 1000 people. Many of these people are amongst the most vulnerable in the camps as this is where the majority of families and unaccompanied minors currently live.
Such an enforced move would uproot again those who have already had to abandon their homes due to war and persecution. The eviction also threatens vital community facilities built and run by the residents and volunteers including the Women and Children's Centre, the Youth Centre, three mosques, one Orthodox church, three classrooms, the camp's only library, the Good Chance Theatre, the Legal Centre, the Vaccination Centre and three crucial distribution centres for aid and food. These spaces offer much-needed respite and comfort for all those living in the intensely difficult conditions within the camp.
We, the undersigned, a number of whom have seen first-hand the refugee camps in the last few days, urge the British government to do three things:
1) To create an expedited process for the implementation of Dublin III's family reunion provisions so that all minors who are currently residing in the camps in Calais and Dunkirk with family connections in the UK are able to reunite with their loved ones with immediate effect.
2) To ensure that those minors who have no legal right to come to the UK are protected and supported within France and that the French child protection process is also expedited to afford them the protection they are entitled to.
3) To persuade the French authorities that the decision to destroy further parts of the camp in Calais is postponed until all the minors currently residing there are either given child protection within the French system or enabled to reunite with their loved ones in Britain.
We believe the above actions are the absolute minimum that the British government should be taking to alleviate the suffering of the refugees in Calais, and must be made an urgent priority. The British charities, Help Refugees and Citizens UK, have already largely identified, screened and begun to process the minors in question. This is a humanitarian crisis that needs to be acknowledged as such and it is imperative that we do everything we can to help these innocent and highly vulnerable refugees, especially the minors, as swiftly as is humanly possible.
Yours sincerely,
Benedict Cumberbatch, John Porter, Sandi Toksvig, Jude Law, Stephen Fry, Bob Geldof, Danny Boyle, Helena Kennedy QC, Jamie Byng, Kristin Scott Thomas, Mariella Frostrup, Michael Morpurgo, Philip Pullman, Rowan Williams, Shami Chakrabarti, Steve Coogan and many more
I of course added my name. Whilst Cameron is in Brussels demonstrating to the rest of Europe just how xenophobic a British right wing politician can be I think it important that there are some of us standing up for what is truly important.
I also signed this:
https://www.change.org/p/the-government-ailing-92-year-old-facing-forced-removal-from-uk
Yes who can believe that the 6th (some claim it to be the 5th) largest economy in the world decides to deport a frail 92 year old woman back to a country where she now knows nobody. In the Britain in which I was born this would not have been countenanced. Why is it deemed impossible for this woman to remain with her British daughter, to be loved and cared for in her remaining days. Can you imagine the torment i one of your own elderly relatives were to be treated in such a fashion. It doesn't matter where she is from but it does matter where she is now.
Two very different scenarios but both symptomatic of a callous government
Update on Friday evening:
The deportation has been postponed for reconsideration due to public pressure:
Now let's hope that the letter concerning the children in Calais has a similar result.